BIO
Tatham Maree "Tamee" Harrison, was born in Perth, Western Australia, grew up in Austria and the UK and is a highly credited and very successful European Singer/Songwriter/TV Host/Fashion Designer.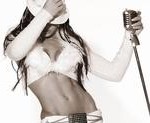 In the early 2000's, Tamee signed a record deal with Sony Music Austria and had great success with her singles "A Little Bit", "You're The Voice" and her debut-album, "From Me to You". In 2003, she decided to continue her career with Warner Music Austria.
Her next successful song "Every Time We Touch", peaked at number 4 and stayed in the charts for 12 weeks. Three top-10 singles and two top-20 singles followed, including Tamee's co-written Songs "It's a fine day", "A Beautiful Time" and "Heartbreaker", plus the Songs "I'm Ready" and "Going To Paris".
End of 2003, Tamee branched out on an additional entertainment path and became a TV Host for MTV. She was the music segment VJane of the show "6-Pack" and it aired weekly in many countries across Europe.
In 2004 Tamee wrote and sang the official Coca-Cola Christmas Song "A Beautiful Time", which immediately stormed to the top of the charts, becoming the most successful National Christmas Pop-Song ever written by an Austrian.
Not only did Coca-Cola repeat the extensive Christmas TV campaign featuring Tamee's song in December 2005, 2006, 2007 and 2008, but also expanded it to multiple European countries.
The song "I Live My Life For You" followed, a duet co-written by Tamee which had great success throughout Europe including the number one chart position in Slovenia.
In 2004 Tamee received the Austria Award in the category "Most Popular National Pop Artist".
Tamee also achieved three Austrian Amadeus Music Award nominations, in 2002, 2004 and 2006, in the Category "Best Female Artist".
In 2002 Tamee flew out to Kosovo and in 2004 to Syria to perform in front of thousands of UN Troops and received the UN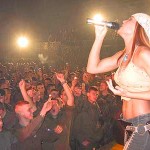 Honorary Medal.
In January 2005 Tamee performed at the "Vienna Opera Ball" at The Waldorf Astoria Hotel, New York, and also co-hosted the 2006 and 2007 Live TV Show "The Vienna Opera Ball" in Vienna, which airs all throughout Europe.
Additionally in 2007, Tamee co-hosted two of her favorite TV shows – Dancing with the Stars Austria and the Austrian Amadeus Music Awards.
Throughout 2005 to 2008 Tamee designed not only her own watch-line, in cooperation with Jacques Lemans, the highly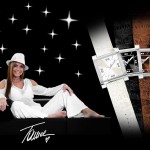 acclaimed Austrian/Swiss watch company, but also her own "The Eyes by Tamee Harrison" sunglasses and optical frames, in cooperation with Titanic, a prestigious European eyewear company.
From Vienna to New York, Monaco to Shanghai, Tamee has performed and hosted all across the globe.
2010 Tamee re-located to Los Angeles, California and is continuing her career. She is currently writing and producing new songs, can be seen on national American TV, hosting new Infomercials for brands such as the TopStyler by the makers of the InStyler, the Ionic Styler, Christina Cosmetics, SensiLight Mini, Mineral Air Make-Up and First Alert. Tamee is also the host of the new DirecTV 4K travel show Mix:LA, the "behind the scenes" show Behind The Curtain, the Uncommon Denominator and the GoDaddy 
campaign on national Australian TV. She also recently had the honor of hosting the Backstreet Boys 20th Anniversary Celebration live in Hollywood, is the official testimonial for the TopStyler and spokesperson for Siemens Enterprise in the English and German speaking territories.